2017 September Show Schedule
Entries Close:17th August 2017
AUSTRALIAN CATTLE DOG SOCIETY OF NSW INC
CHAMPIONSHIP SHOW
BILL SPILSTEAD COMPLEX FOR CANINE AFFAIRS
44 LUDDENHAM ROAD ORCHARD HILLS
SUNDAY 17 SEPTEMBER 2017
JUDGE
Mr T Tancred (NSW)
Classes to be judged: 1, 2, 3, 4, 5, 10 & 11 (dogs & bitches)

Entries to: Mrs N Hale, PO Box 30, Burrumbuttock, NSW 2642
Ph & Extreme Weather Ph 0417 227 470
Cheques made payable to:
Australian Cattle Dog Society of NSW Inc

Order of Judging Property classes: Veterans Parade, Breeders Group,
Parent & Offspring, Best Headed Dog, Best Headed Bitch, Best Headed in Show, Best Gaited, Best Footed, Best Coated, Breed Classes & General Specials.
Judging Commences 9.00 am with Property classes, 10 minute break,
Breed Classes to follow

Dogs NSW Representative Miss F Smith

Entry Fees Members $10.00, Special Classes $5.00,
Non Members $14.00, Special Classes $8.00
Catalogues $4.50 prepaid with entries, $5.50 on the day
Refreshments Available on grounds
PRIZES: General Specials Trophy & Sash all Classes
Special Classes Trophy & Sash 1st, Sash 2nd, 3rd

Overnight Camping: Is available please contact Dogs NSW Ph 1300728022.
Point Scores Australian Working Dog Club of NSW Inc, Cattle, Kelpie, Border Collie & German Shepherd Dog Club of NSW Inc, Working Dog Club of NSW Inc
All Remittances to be made in favor of: Australian Cattle Dog Society of NSW Inc.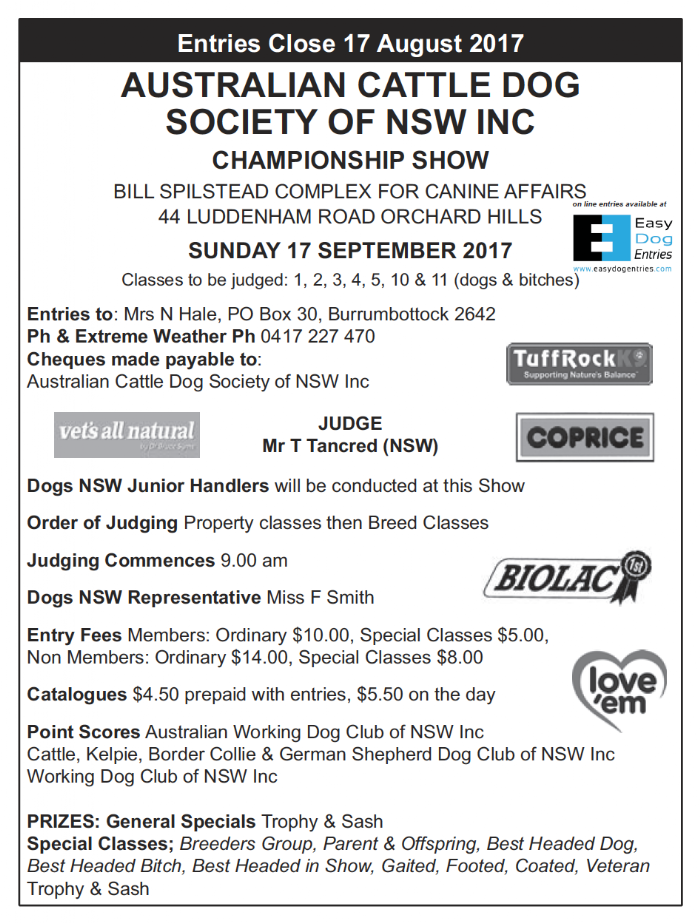 Thank you to our valuable sponsors